Joint Charge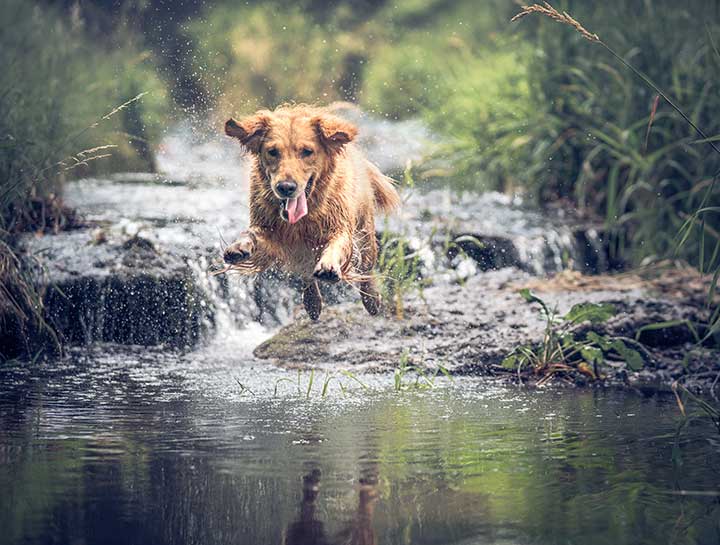 February 1, 2022
Made to give older pets a new leash on life.
As your pet(s) age, just like humans, their bodies don't produce as much effective HA as they once did. And their bodies tell the story.
They don't rise as quickly or bound up the stairs like they used to.
Without the right amount of HA, joint cartilage can't absorb shock. Your pet can't move freely. When given daily, Joint Charge keeps joints supple. How? By delivering HA to the synovial fluid that surrounds them.
The exclusive form of HA in Joint Charge helps to relieve arthritis pain, restore mobility, and increase flexibility. Many of our clients have reported improved mood and playfulness in their pet(s) after boosting their HA levels with Joint Charge.
Pets tell you how they feel by how they move. What's your pet telling you?
Why do you recommend Joint Charge?
In three decades of practice, Dr. Roger Nix has seen nearly as many treatments for joint issues as animals that have them.
Over the counter solutions for arthritis and other joint issues can be effective, some more so than others. Prescription-only therapies can be appropriate for many conditions but also have to be weighed against their risks and cost.
Inspired by clinical studies about HA's ability to increase joint flexibility and improve mobility in humans and animals, Dr. Nix began the search for a more bioavailable, affordable form of HA than tablets or injections. Working with an FDA-approved manufacturer and a patent-pending form of user-mixed HA, and marketed under the brand name JointCharge, Dr. Nix developed a hyaluronan joint lubricant for animals and the people who care for them.
What makes it different than other joint supplements?
It's more than a supplement. It's actually lubrication that goes straight to your pet's joints. Compared to the cost and risk of prescription medications, and the waste of degraded or poorly absorbed products, Joint Charge is the most effective — and cost-effective — joint health solution.
Why? Pre-mixed HA can lose potency before you even open the package. The HA in Joint Charge is inactive until you add water. Joint Charge is the freshest HA joint supplement available because you mix it yourself.
How do I give Joint Charge to my pet?
Maintaining joint health with Joint Charge is simple and convenient. You don't have to hide Joint Charge or force your pet to swallow it. Joint Charge is clear, tasteless, and odorless. Just follow the simple mixing instructions and pour it over your pet's food once a day at feeding time.
Questions? Ask Us.
Your pet's health and quality of life is our first concern. Keep in mind that Joint Charge doesn't work for every pet. However, thanks to Joint Charge's ability to hydrate soft tissues and increase joint elasticity, it delivers results that can range from a mild to a remarkable improvement of your pet's joint mobility in about 7 out of 10 cases.
If you'd like to try it on your dog or cat, you can buy it online at https://www.jointcharge.com/Buy. Or you can avoid shipping and buy it here at the hospital.
Either way, Joint Charge comes with a money back guarantee so if you don't see the results you're looking for, there's no risk.
Precautions: Safe use in pregnant and or breeding animals has not been proven. For animal use only. Keep out of reach of children. Made in the USA.
*These statements have not been evaluated by the FDA.