Help your pet look and feel great.
In addition to helping your pet live a long, healthy life, we want them to look and feel their best. That's why we offer grooming for cats and dogs.
At Windermere Animal Hospital, we understand that every breed and every individual pet comes with its own specific grooming requirements. We can help yours achieve a healthy, comfortable coat on a regular basis or simply give them a bath after that playful romp through the park.
And as important as they are for basic hygiene, we know nail trims and ear cleanings can be as exhausting for you as they are for your furry friend - but don't worry, we can do those too.
Your Pet's Regular Appointment
We'll begin your pet's routine appointment with a complimentary eye exam. This test is crucial because animals can't communicate when their eyesight changes. Frequently checking the health of their eyes allows us to provide treatment for eye health issues??even if you hadn't noticed any signs.
The next step in the process involves washing and removing any tangles and mats from their fur. We'll use a gentle soap to clean their skin and rid them of dry skin flakes, dirt, and excess oil. This bathing process will leave their skin and fur naturally moisturized!
We'll also clean around your fuzzy friend's eyes and ears, clipping away any fur that's blocking their eyesight or tickling the insides of their ears. Our professional and experienced groomers will do everything they can to make your pet feel comfortable at our office and during their everyday lives. Their soothing voices and swift yet calm techniques will give your furry best friend a sense of security and pampering that they'll look forward to.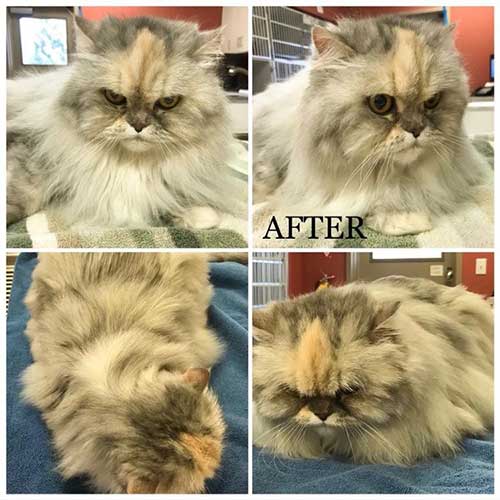 Our Pet Grooming Services
We're proud to offer our clients the following services:
Nail trims
Ear cleaning
Shampooing and conditioning
Brushing and dematting
Shedding treatments
Anal gland expression
Cuts, clips, trims, and styles
Call us at (317) 841-1846 to book your pet's grooming appointment. You won't be disappointed, we promise.